DSSminer automated cryptocurrency trading bot
advantages of automatic trading robots

1: quick, safe, and secure trading
Due to the rapid and momentary changes in digital currencies, you need a system that does this quickly and accurately. This is done by the dssminer digital currency trading robot, and you won't have to worry about losing your capital.
2: 24/7 Trading
A human trader cannot permanently trade, but needs to rest. He needs to do other things. However, the robot monitors currencies 24 hours a day, without fatigue or interruption, and checks the terms of sale and purchase, and issues orders for buying and selling on time.

3: Multitasking
Automatic trading robots can monitor a large number of currencies simultaneously and apply the necessary commands to them and make purchases and sales quickly, while humans cannot execute such commands at the same time. And this restriction is removed by the robot.

4:Minimizes emotions.
Fear and greed are the biggest barriers to successful business. Traders may be afraid of doing business after the loss is out of fear of making the necessary deals or closing a bad business. On the other hand, "greed" can cause traders to make random trades or have longer positions than they set in their trading system. Transactions can even be distorted by the human soul and bigotry, in which traders see what they want from charts and markers and try to find unreliable reasons to support their beliefs.
5:Don't need deep knowledge about trading.
With robots, traders do not need a skilled trader or a talented programmer. Instead, traders should decide by backing up and tracking forward tests which EAs are reliable to see if they meet your performance and risk criteria.
what is diffrences of DSSminer bot from other BOTs?
✅ very simple and easy to use
you need just input your api and secret key of binance . so other settings are dynamically changes and will be done by BOT .
✅ It will have much higher profits compared to other robots. This is because it uses an internal indicator that has both a good buy signal and a good sell signal.
✅ Your balance can be in any currency other than tether , but it must be able to convert to USDT
✅ When the currency falls, it becomes a tether and protects your capital
✅ All settings are removed and the user only enters the api information on the site so all the proportional variables are automatically determined by the robot and its values ​​will be variable.
✅ The robot will be web-based and the user will not be involved in software problems
✅ Higher and significant profitability to prevent capital sleep
✅ High operating speed at the time of currency trend changes
✅ Use the internal indicator without the need for an external source such as Trading View resulting in higher performance
✅ In this version, no currency remains negative for a long time . it will be converted to USDT
✅ Due to the upward trend of some currencies at the time of Bitcoin fall, your balance in this case will also be upward
✅ BOT is web based so no need to buy any VPS and You will not face the problems that Windows software has
Visit dssminer.com. After registering in trading section, visit add bot. Give the robot the api key and secret key information that you get from the Binance site (in this page, we have explained how to get this two amounts from the Bainance site.) . also select one bot . you can see list of selectable BOTs (at this time we have just one bot that you can use multiple ) . after add BOT you can enable it. Keep in mind that your USDT balance should be sufficient. BOT sell and Buy USDT pairs .so you Because this robot only works in Binance and trades pairs of USDT currencies. BOT check about 170 coins that are usdt pairs so each them have buy condion will buy . and if have sell condition will sell.
target profit:
it means with which profit percent close order . we suggest you set it 1-2.
stopless:
That is, if the currency is declining instead of rising, how much of a currency loss will it turn into a USDT. It is better not to activate this field, if you activate, do not select a small number
What can we do to make the bot to be free?
for activate your bot you should pay subscription but if you want to your bot be free and no cost so you should join to binance.com from our referral link In order to determine whether you have been invited to Bainance by us or not,please change Bot to freely . The system will ask you for your binance email. After that, we will receive your request.you have to have sufficient USDT in your account.at this time we cant enable free bot for all . for some users that have more than 10000 usd ballence we will check .if the binance commission be sufficient we will enable.so at this time you should pay online to activate your bot.
https://www.binance.com/en/trade/btc_USDT
https://www.binance.com/en/my/orders/exchange/tradeorder
This is because Bainance has not given us the option to automatically detect whether it is a subset or not, and we have to go through these paths. Thank you for your patience
What is the basis of dssminer smart robot?
If you are active in the field of digital currencies, you have witnessed drastic changes in the price of currencies in different periods of one day and one year. For example, Bitcoin, which has the most capital among other currencies, dropped by 20% overnight.it means if you had 10000 $ in BTC You lost $ 2,000 . Other low-capitalized stocks are much more volatile, and sometimes fall 90 percent overnight, or vice versa.

On the other hand, there are currencies like USDT , whose price is almost constant and is one dollar. So if you can implement a system that quickly turns into a tether if the price of the currency goes down, it means you will be prevented from losing. You may say that there are big exchanges like binance that have solved this problem and you can put Stop loss and prevent your losses. But imagine that the price of currency fell and Stop loss became active and again the price of currency increased Twice you lose here and your currency has become a tether and you could have made more profit and left out the profit. Now, if you have defined a purchase limit that has increased by 10%, for example, this will be done again, but imagine how many times this fluctuation has taken place in a short period of time. and you dont have any control on your asset
If the bots are well-programmed, they will fix this problem. That is, they are smart. That is, they buy at the bottom and sell at the top. So while you are making a good profit, your losses will be stopped.Robots are written in two ways or are web-based, meaning you register on a site and enter exchange information, and the BOTs starts buying and selling for you according to the settings and sees the result.The second case is written as a program under your operating system, such as Windows, and you have to install it, and your system must be turned on 24 hours a day. If the system shuts down for any reason, you will have problems. vps) buy.Due to the many problems that Method 2 has, we prefer that the BOT be web-based, meaning that you just need to log in and enter your API information in your Binance site. Robots don't need your login password and username, so just give them the api key and secret key.For the robot you will need api key and secret key To work with the robot, it is better to create a new bypass account. Therefore, register through the following link.Before registering, for registration in binance i think it is better to use email instead of PHONE and google authenticator .
click here to register in binance site
The photos below show the steps correctly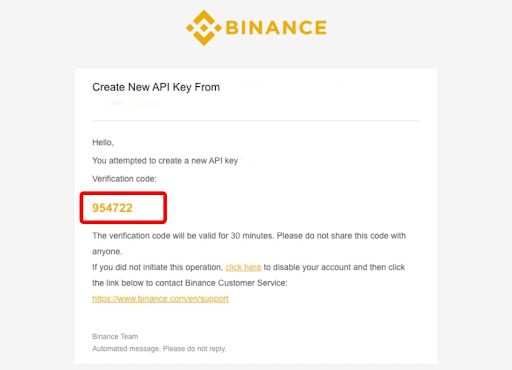 You should keep in mind that the secret key is only generated once. You must also click to get the code to receive the code so that the code can be sent to your email. These are temporary codes.After receiving the api key and secret key, write it down where you can use it for robots.


Where to start to use a dssminer robot?

Log in to dssminer.com, after registering and logging in to the trading bot section


https://dssminer.com/client/trading

, make the desired settings. Unlike other robots, we have tried to make your work easier. And you only do one basic setup and the amount. You can see the revenue and history of sales in Bainance. Of course, these features will be added to the site over time.
Be more successful
Trading - add bot
you can ses all orders in this link
https://www.binance.com/en/my/orders/exchange/tradeorder
also you can trends of your profit in binance from this link
https://www.binance.com/en/my/pnl/spot_account